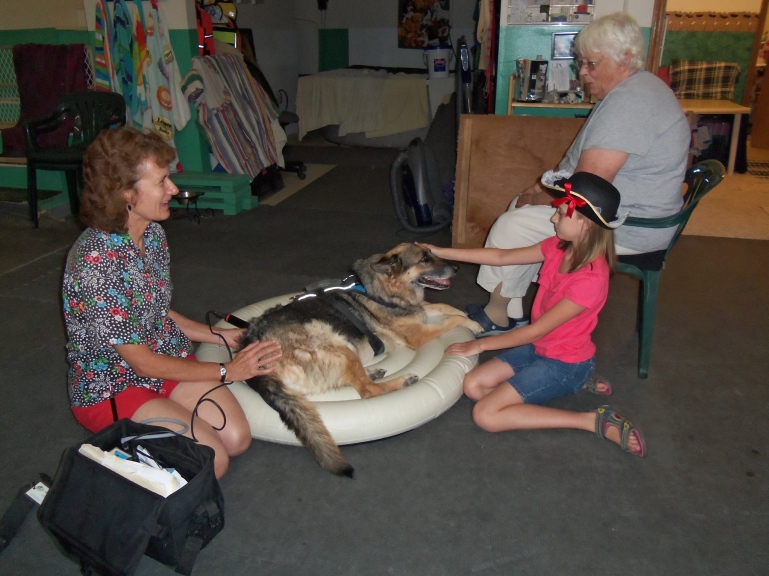 Contact Info
K9 Wellness Center
Beth Williams
5635 Riggins Ct. #16
Reno, NV 89511
Phone: 775-750-5087
Fax: 775-853-5710
Contact Form
Website:
www.k9wellnesscenter.com
Photo Tour
This will show up if the script is missing or flash isn't installed
Hours of Operation
Monday through Saturday by appointment..
About Us
Welcome to K9 Wellness Center
Animal Physical Therapy and Fitness Training
K9 Wellness Center provides animal physical therapy and rehabilitation services to canines, felines, and equines, upon veterinarian referral.
We also provide fitness training & performance conditioning, (indoor pool or hot tub swimming, stretching exercise, and treadmill training) for healthy dogs that are training and/or competing in agility, conformation, field trials, flyball, obedience, etc., or dogs that just need some extra exercise.
And we offer "Fido 'N Me Fitness" classes, a fun and unique way for dogs and their owners to get fit together!
Our Mission: To promote health and well-being, To prevent injury and facilitate healing Through education, exercise, training, and therapy services.
In addition to physical therapy for animals with injuries, post surgery, etc.,
K9 Wellness Center also offers fitness training and performance conditioning for healthy dogs. Just as with humans, dogs can benefit from "cross training" - for example, swimming provides excellent cardiovascular conditioning for dogs competing in agility or field trials, and improves muscle tone for dogs competing in conformation.
Our indoor, 4' deep pool provides a clean, safe, comfortable experience for both dog and owner without the hassles of beach sand, lake water, other dogs, etc. Small dogs can swim in the 24" deep hot tub, and larger dogs benefit from walking in the warm (92 degree) hip deep water, which decreases stress through weight bearing joints while providing resistance to movement. And dogs can be trained to walk or run on the treadmill, so that regular exercise can continue even in the heat of summer and cold of winter.
Owners also learn stretches to perform with their dogs to enhance flexibility, improve mobility, and prevent injury.
Exercise is one of the most important tools for keeping pets physically and emotionally healthy. Regular physical activity has many benefits, including:
extending the lifespan

strengthening the heart and lungs

reducing boredom/anxiety/depression

decreasing aggression

stimulating the release of endorphins (natural opiates in the brain) to decrease pain

relieving pain in arthritic joints

improving digestion

increasing energy

stimulating weight loss

decreasing the risk of diabetes

strengthening the immune system.
Imagine - if there was a pill that could do all that, with no detrimental side effects…. what would you pay for it?